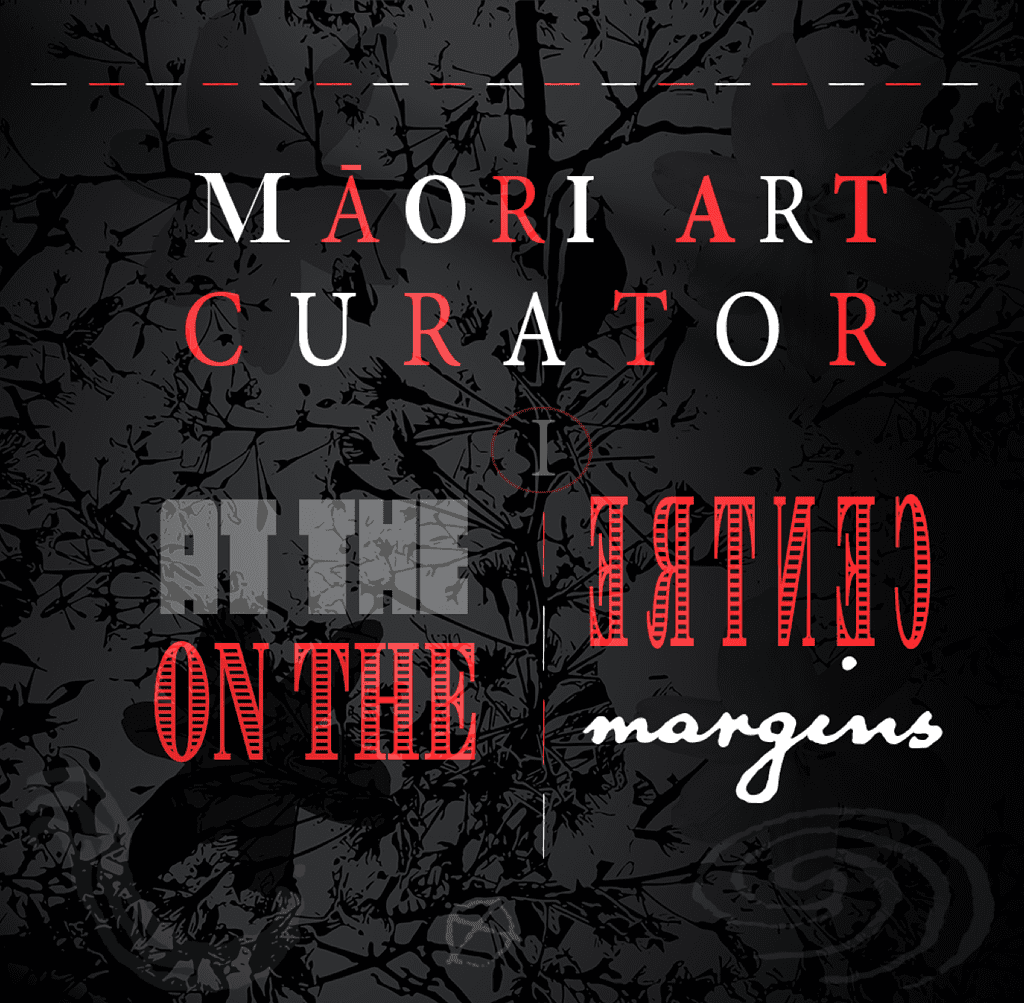 Māori at the Centre: on the Margins. A MEMOIR
© Rangihīroa Panoho and PIHIRAU PRODUCTIONS Ltd, 2016-2021.
No part of this document (text or imagery) is free to be copied, plagiarised or shared for publication or for uses neither intended nor agreed on by the author without his express permission. Details for writing to Dr Panoho are as follows: 

blueskypanoho@icloud.com

The opinions expressed are Rangihīroa's and not those of former employers or industry colleagues.
'There have been no focused strategies, no foundational initiatives, no convergence of influence or development of critical mass created by the sector to provide contemporary Māori art curators with opportunities to evolve our curatorial practice further. Most of the expansion of contemporary Māori art curatorial practice I would submit has been self-seeded and created by the art curators themselves…. It is clear that the curatorial field I inhabit has not been actively grown when my curatorial position is one of only two dedicated contemporary Māori art curatorial positions in the country. I am probably the most established, having a curatorial career that spans 26 years and in a position that progressed from an initial 10 month internship founded at the National Art Gallery in 1990 to what is now the Curator of modern and contemporary Maori & Indigenous art at Te Papa.'
Megan Tamati-Quennell, Curator of modern and contemporary Māori and Indigenous art at Te Papa Tongarewa, 2016
'In 198[8] the gallery employed Rangihīroa Pan[o]ho, the first Māori to be employed as a curator in a New Zealand art museum (and also the first Māori to secure a [Masters] Art History degree) as a member of the staff. In 1989 he curated the ground-breaking exhibitions Whatu Aho Rua, which was shown at the Sarjeant in conjunction with an already formed contemporary artists show called Te Ao Māori. In 1991 Whatu Aho Rua was reconfigured by Pan[o]ho and was toured by the Sarjeant with full escorting support from Whanganui Iwi to four important venues in Australia before closing at the Whanganui Regional Museum. Also in 1990 he curated the spectacular and ground breaking Te Moemoea No Iotefa, which went to Wellington and Auckland. This exhibition was the first to bring together traditional Pacific Island craft with contemporary craft and the work of contemporary Pacific Island artists.'
Chris Cochrane, Heritage Assessment for the Whanganui District Council, Sarjeant Gallery, 2012: 19
'I flew to NZ to visit Mr Panoho from Tonga (where I was working on gender and art) and saw his outstanding Te Moemoea No Iotefa. The exhibition was well orchistrated, each room had its own logic and functionality. The artworks were diversely discursive, often providing alternative cultural critiques to contemporary idioms and issues of appropriation. The veracity of the exhibition was clearly due to his ability to establish a relationship of trust with the artists.' (1) 'Panoho works primarily in the field of taonga and contemporary Māori Art, theory, criticism and cultural studies. This is a demanding field that forces him to always be on the cutting edge – which he is – with a careful balance of historical depth, agile insight and sagacious theory into relevant current issues. Panoho's catalogue texts (e.g Whatu Aho Rua and Te Moemoea no Iotefa) are a good case in point; they challenge the way Western art historians think about the context of art and suggest that we stop canonizing contextual categories and move towards a better understanding of contexts that brings "traditional" and contemporary Māori art more forcefully into play.' (2)
Jehanne Teilhet-Fisk, Professor Emeritus, Visual Arts Program, University of California, San Diego, writing to Art History Department, University of Canterbury, 10 February 1992 (1) and the University of Auckland, 11 October 1996 (2)
'We are contemporaries. We did Art History together in the early eighties at the University of Auckland. After completing his Masters…thesis on Paratene Matchitt Rangi joined the Sarjeant Gallery in 1988 working as Curator Māori. He was part of a new wave of young art museum curators at that time which also included Greg Burke, Tina Barton and myself.'
Robert Leonard, Chief Curator, City Gallery, Wellington, 25 August 2016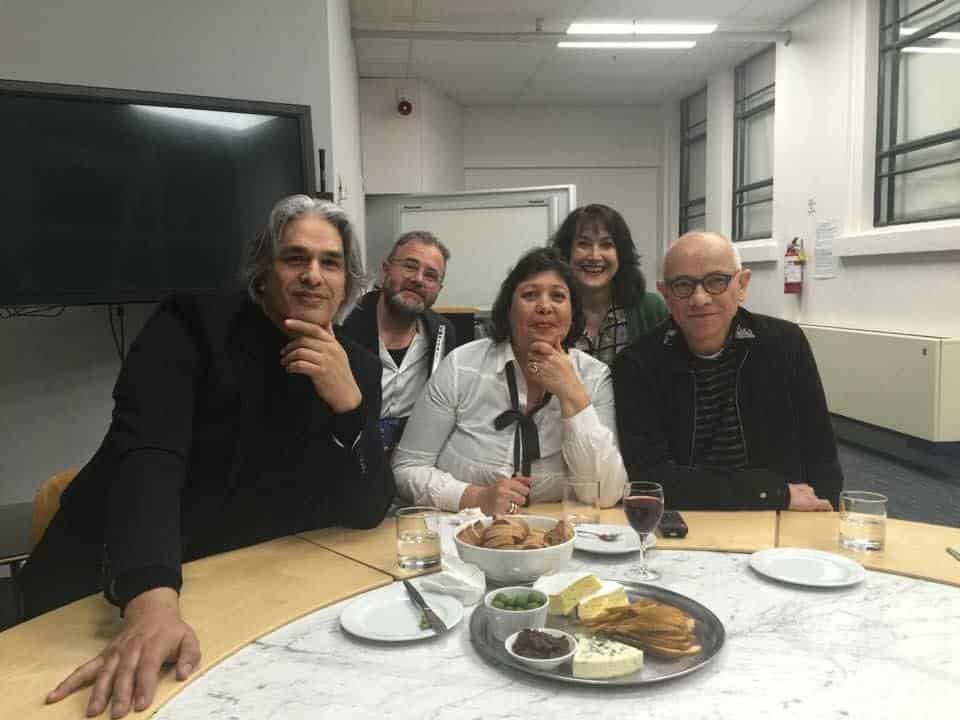 'Curator: that was the guy carrying the hammer', Interview, Rangihīroa Panoho and Fred Graham, Auckland Museum, 2016
Gould Street, Russell, 17 Nov. 1986
Tēnā koe Rangihīroa
I read your letter with interest and noted that it's a thesis on Para Matchitt. He is an important Māori Artist and earlier on in our careers we worked jointly on a number of projects. I congratulate you and hope you succeed in giving all a true picture of the man… I wish you all the best with your work and hope we meet sometime. Cliff.
Ōwairaka, 14 August 2017
Te Whanakao tou maunga Oraka tou punawai Kereu tou awa Ko Kaiaio tou hapū Ko Te Whānau-ā-Apanui tou iwi E Cliff, moe mai, takoto mai rā ki te poho o Te Atua. Hāere, hāere, hāere. Hāere ki Hawaiki nui, Hawaiki roa, Hawaiki pāmamao. Aroha ki tou whānau pani. Ka hinga te rakau rangatira, he kauri. I whakarongo au ki te paopao o tou tinana ki te papa ngaore o Pukauakua te pā o Te Ponaharakeke. Ae, ngāueue ana te ngahere. E Ihowa ka mahuetia koe ki ngā peka aweawe me ngā rau e whiti ana hei uwhiuwhi mo ngā manu e noho ana kei runga. Pakaru te ruruhau, e koheri ana te hau kawa ki te kete aronui. Nā reira, takoto mai e Cliff, kia tangihia koe e ō iwi. Ka ngaro koe, te kaihautū, te toi rangatira Māori, te kura whakahirahira o ngā uri o Pou, te mauri o te whenua, te mauri o te tangata, haere! Haere rā! arohanui nā Rangi
When looking at this image of Clifford and Paratene in Hamilton in 1966 I didn't, until recently, think of curated shows. When I spoke to senior Māori artist Fred Graham in 2016 about this early period his recollection of the role was that, 'The curator was the guy carrying the hammer.' Too young for this era I was to feel its influence decades later, in 1986-1988, when travelling the country as a Masters student in art history doing a thesis on Paratene Te Mokopuorongo Matchitt. I have a vivid recollection of stepping through the same assembly hall doors in 1987. Inside that space there were more signs of the curatorial act than Graham conceded. Here, for the reader, I am quickly resorting to all of the broader permutations of the word curator, cūrāre (14th century Latin meaning), the Scottish concept of the legal guardianship, the Ecclesiastical function of pastoral care or nurture, the Māori concept of kaitiakitanga and so on. I can't detail any of these concepts here but I intend all of them because I am describing a function that is necessarily atavistic and cross-cultural with a huge range of layers and complexities that make it what is has now become (not only in the world but in Aotearoa and in institutions across the Asia Pacific).
The toenga kai 'remainders' of this important exhibition/declaration (i.e. represented in the National Publicity photograph) held years earlier was, on my arrival, still impressive. Four ceiling height carvings by Matchitt in 1965 stood silently stage-side. The large acoustic tile mural Niho Taniwha (seen in the background of the introductory image 'When All Things Were Possible') from the same year presided over the back wall. It was in other words a space the artist had already delineated and conceptualised. However, most curatorially resonant was a label positioned adjacent one set of carvings. The writing on the wall referenced not just the collection of creative energy and outpouring of collegiality that characterised this central North Island site – Sacred Heart Girls in Hamilton later in 1966. The label (yes singular and significant because I know of no other occasion when the artist took such trouble to spell out meaning in his display committing himself to writing!) also conveyed curatorial care for a central conceptual issue. When I first began curating at the Sarjeant Gallery I remember asking Roger Blackley, Curator of Historical New Zealand Art at the Auckland Art Gallery, for some template suggestions for labels. Perhaps if I, as a student, had looked more closely at this 1966 interior I might have later realised the important foundations already more informally laid. Matchitt was using the label to not only clarify the sculpture but also to talk about the kind of event he evisaged in the Sacred Heart hall and perhaps future exhibition spaces. Whiting and Matchitt were here both involved, as kinsmen, in helping nurture the beginning of a key conceptual shift.
The text describes a changing of the guard and it does so by referencing the story illustrated in Matchitt's totems of Rangi and Papa separated by their children at the front of the hall. Matchitt's concern is not simply modernist talk about freedom and enlightenment and tradition giving way to modernity. Matchitt, Whiting and a limited number of others, as curators of this vision, devoted their lives to trying to select, shape and give a particular feel to te wehenga: that Tane whakapiripiri energy that both separates generations and that joins humanity within architectural and conceptual space. Curatorship is the vehicle with which that commitment is explicitly conveyed because the message is too important to leave to the viewer to interpret.
In the postscript to that symbolic departure the two Māori arts and crafts advisors, shown here inside the Sacred Heart hall, look inquisitive, they are working the room, they are touching the artworks (i.e refer back to the kaitiaki 'guardianship', pastoral function introduced earlier in this post). Of course they are aware of the camera lens but they also appear genuinely focused on the work of their mates. They are visually engaged with the different design solutions to the same problem: how does one redefine legacy as art? A year later Matchitt was to describe his work (and this applies broadly to many of the rangatahi artists of the time) as a balancing act where the Maori School of thought and the Western School both played on his mind. He said he was never sure how it would turn out. 51 years later (despite some very heavy defining of taha Māori within academic and museological institutions throughout Aotearoa) that Sacred Heart Girls' Assembly hall prediction continues to remain prophetic, fresh and unscripted ready for someone else to walk through the door and revisit the thought.
I started out wanting to post here something skeletal, perhaps obligatory, regarding my contributions 22 years later as a foundational Māori art curator, to a recent celebration of half a century of Māori curatorial activity dating back to the Sacred Heart moment. It has now been 31 years since I curated large shows, which the above colleagues reference. Some might think, perhaps justifiably, I am simply going to recount nostalgia but in resurrecting this past I have no tolerance for posterity or for simply thinking in the past tense. My interests are current. I have never stopped applying for jobs in the curatorial, art museum and art gallery area in New Zealand nor have I stopped imagining shows, for me the dream of Joseph and the role of the curator continues.
One key New Zealand post (2016), recently advertised and specifically in the contemporary Māori curatorial area for which I was not shortlisted, stands out. There was the usual officious note and later some clarification from the Director explaining the way in which I was currently being received. My writing and my academic research was acknowledged (not long before the job was posted I had just published Maori Art ) but no recognition was given to my role as a curator. While the gallery function of the word curator had slipped away it seemed the pastoral, guarding, shaping connotations of the kupu were now implied. The suggestion seemed to be that my role now was to help mentor the successful curatorial candidate.
There is absolutely no question that Dr Rangihīroa Panoho is superbly qualified academically and has an impressive proven track record as a pioneer educator, researcher, scholar and writer in relation to Māori art, recognised in both Aotearoa and internationally…The position of Curator, Māori Art…possesses, in addition to scholarly experience, the key responsibility for Curatorial and Collection Management in the area of Māori art…The gallery looks forward to the possibility of working with Dr Panoho as a mentor figure, thinker and historian who actively contributes in an important way to the field of Māori art and culture.
Rhana Devenport, Director, Art Gallery of South Australia, Adelaide (formerly Director, Toi o Tāmaki)
Some it would appear still consider me working this way in 2021. After reading my ongoing installments (more MaC posts to follow) I leave the readers to judge for themselves whether this is a fair presentation of my career (i.e. the academic not the curatorial) as I recount my role as a foundational Māori curator in this country. Initially this involved drafting the first specifically 'contemporary' Māori art acquisition and collection management policy in a New Zealand art gallery (August, 1988) and presenting it on a panel at a national art gallery and museum forum (AGMANZ annual hui, Whanganui, 1989) but also continuing curatorial activity and the ongoing management of a diverse range of shows (existing and proposed) both within and outside the walls of institutions in New Zealand and abroad.
What the 1966 space demonstrates, along with a very important juxtaposition of art alongside taonga also in the 1960s by Paratene Matchitt and John Bevan-Ford, is that there have in fact been many, many foundational acts of cūrāre that have taken place and which continue to hold resonance. As Māori moving in the flow of that legacy we have an obligation to both search for and to understand what comprises ēnei puna koropupū. I would hope that my ongoing legacy contributes to this reretanga 'flow'. I did not simply stop curating after I resigned (14 August 1991) my position at the Sarjeant Gallery and took up a lectureship (16 September 1991) with the School of Design in Wellington. Rather, initially I honoured, '…my commitment to the successful display of the Sarjeant Gallery exhibition Te Moemoea no Iotefa at Toi o Tāmaki' (resignation letter) and continued an intensive development of my curatorship in a range of later projects while taking on the new challenge of beginning the lifelong role of educator.
Much to my wife's bewilderment a sense of curatorial duty still lingered beyond the AAG venue (14 September-20 October 1991). It was the unwelcome guest during my family Christmas holiday in December/January 1992 as I took late night pilgrimages to the tiny office in Whananaki Primary School to plan and fax contracted liason expat Julian Bowron. The seaside escape was my temporary space for creating and checking object lists, catalogue essay changes, floor plans, display furniture, wall colours… for a complete redesigning of Whatu Aho Rua to open at the Adelaide International Arts Festival 3 March 1992. Tandanya requested my continuing involvement. They negotiated with Dr Ray Thorburn and my new employer in Wellington an obligation to return to Tandanya, the National Aboriginal Institute in Adelaide to supervise the unpacking and the successful installation of Whatu Aho Rua which later toured venues in Canberra and finally Sydney.
In Pōneke I was already thinking ahead to a new show which I had begun to formulate during my time on secondment at the Manly Art Gallery and Museum (August 1990) Sydney and as a keynote speaker at the Contemporary Culture and Curators (Julie Ewington, left, and Megan Tamati-Quennell chatting post hui) conference hosted by the Museum of Contemporary Art, Sydney, 18 September 1994. Both visits gave me a chance to talk to a wider circle of senior curators and with directors and managers of major public and private art collections. These meetings and informal gatherings helped open up a whole other level of possibilities pushing connections often in less prescribed directions. While I had an opportunity to research and study major public and dealer gallery collections of Aboriginal Art my visits to Sydney, Canberra and Adelaide were beginning to flower in other areas:
'It was a great pleasure to meet up with Rangi Panoho and his wife when they were here recently and I enjoyed being able to introduce them to people and places in Sydney. Rangi has made an excellent impression on many people here…Rangi showed us photographs of the Pacific exhibition [i.e Te Moemoea no Iotefa] he is currently working on for the Sarjeant and I thought it looked stunning. Julie Ewington, Curator at the School of Art Gallery in Canberra, was also very excited by the images. We both wish to tentatively express an interest in a reduced version of the exhibition and enquire as to the possibility of a selected version travelling to 2-3 venues in Australia.'
Louise Pether, Director, Ivan Dougherty Gallery, University of New South Wales, Sydney writing to Bill Milbank, Sarjeant Gallery, Whanganui, 2 October 1990
Contact and kōrero with MCA Chief Curator Bernice Murphy connected me with Aboriginal curator Djon Mundine and Aboriginal artist Fiona Foley, a curatorial connection with historical Parramatta and with Poihākena kaumatua Graeme Anderson who had supported the staging of the Headlands exhibition in 1992. It may have been my discussions with Bernice, these artists, a visit to the Boomalli Aboriginal Art Collective in Redfern and an awareness of my wife's uncle Sir Kingi Ihaka (uncle Matu)and his attempting to establish a Mihinare base (towards a mārae) in Sydney that suggested an idea. What if there was 'another' Hawaiki and it was Aotearoa? What might comprise the similar but 'not quite the same' expression of te ao Māori that existed in these Australian urban communities and perhaps in other parts of the globe? Was Hawaiki not simply the last location that we lived? My proposal Hawaiki: Last Homeland was one that gathered together networks and momentum from a number of different quarters.
Luit Bieringa (former Director NAG and a freelance consultant) was a key supporter and helped generate interest from the Ministry of Arts facilitating a number of key meetings including a session at Auckland Museum with myself, Director Rodney Wilson and Exhibition Manager Priscilla Thompson who offered very generous forms of support to the prospective show. Remembering I was working outside the gallery environment and Creative New Zealand – Te Waka Toi were more cautiously interested:
'I have discussed the outline [i.e Hawaiki: Last Homeland] with our Director Ereatara Tamepo, who has recommended we present the proposal to the Board at the next available meeting…[Te Waka Toi have] a keen interest in [the] concept for the Exhibition…Australia is an excellent audience for dialogue on changes and development of indigneous arts of the Pacific, and the Sydney arts audience is acknowledged in its incisive appreciation of culture in change.'
Garry Nicholas, Executive Officer, Te Waka Toi, 16 December 1994
Garry talked about the initial enquiries with MCA (i.e the unmentioned 'gallery in Sydney') as looking promising and we also received a letter of recommendation from the Minister of Arts along with initial sponsorship from the Australia/New Zealand Foundation. After leaving the School of Design in 1995 I made a commitment to work on Hawaiki: Last Homeland fulltime as a freelance curator from Auckland. I was very grateful for the generous help I received from a number of institutions and organisations but the timing may not have been good and I found it very difficult, as an individual, to secure major funding and full institutional involvement. I approached the Museum of New Zealand and noted ruefully, in an unsent letter to the Minister of Arts later in 1995, there had been, '…no written response, [although I had heard] from one of the staff members that support was declined [because] they [i.e. MONZ] were wanting to do a similar type of project.'
My failure to secure major financial support did not though seem to deter others, particularly Australians, who believed in, and very much wanted to realise, the project. Earnest requests for support were being extended from the distance of Australia. Bernice Murphy's advocacy of funding (as with that of the Auckland Museum, 14 March 1995) for my exploratory, foundational curatorial work to Gregory Burke (Manager Visual Arts Programme, Creative NZ) met a dead end a number of times but it's tone shows efforts were being made from the other side of the Tasman to support an ongoing curatorial vision well into late 1996:
'This is a wonderful project, we feel, as conceptualised by Rangi, and we would like to support its development into an exhibition that would be shown at the Museum of Contemporary Art, Sydney, in 1998. Leon Parosissien [Director] and I considered the concept in outline, and talked it through with Rangi, when he was visiting the MCA…We believed it offered a vivid possibility of ensuring one major project through which we could keep things moving along in our relations with New Zealand…[and] connections leading into the Māori community around Sydney. Cliff Whiting and Eric Tamepo [Te Waka Toi leader] have also been aware of these connections through their having met Sydney Māori elder, Graeme Anderson, at the MCA during the opening of HEADLANDS. In summary, Rangi's project, and its conceptualisation, make it a very exciting and timely one in our view, and we wish to help realise it here as an important event in the programme for 1998 at the Museum of Contemporary Art. We respect Rangi, know and value his professionalism and are completely assured of his seriousness and capacities to deliver an exciting and innovative project…'
At that time I was beginning to receive a scholarship, having enrolled in a PhD in Art History at AU ('Authenticity in Māori Art'). This contact with the department I had trained in was eventually to lead to a part-time, then full-time tenured teaching post in Māori and Polynesian Art for around a decade from 1997. My last meeting with Bernice was a Guide Rangi visit leading her and Leon Parosissien around the Māori Hall, Auckland Museum (5 September 1995). My last correspondence was 10 August 1996.
'I would like to have some discussion with you, if by chance you will be in Auckland this Monday or Tuesday about the Hawaiki project…I am coming to Auckland briefly for the function concerning the Auckland City Art Gallery's new contemporary space this week…I am seeing whether I can meet Paula Savage also, if she will be there, to explore whether we can sort out some path forward. I do want to see how we can assist the progress of your project, Rangi. Best wishes. Kia ora rā
Bernice Murphy CHIEF CURATOR – ASSISTANT DIRECTOR 3 September 1995
'Regarding Hawaiki: Last Homeland…I spoke to Nick Tsoutas [Executive Director, Artspace, Visual Art Centre, Sydney] about you and your project (Leon was there also). We agreed that we both would like to do what we can to help you keep your research going – especially helping you on your planned travel to Sydney and NSW. Leon and I…[and Nick] promised to regroup on issues to do with your project (and the Pacific) in a little while, after all the Biennale visitors and opening envents have subsided…'
Bernice Murphy MCA 10 August 1996
While all this work on Hawaiki had been taking place I also had another offer from Australia. Nevill Drury, Managing Editor/Publishing Manager at Craftsman House, Sydney (at the instigation of former MA thesis supervisor Dr Michael Dunn) commissioned me to write a book on MAORI ART. I had already begun work on the manuscript back in 1993, had a royalty and sponsorship support from Creative New Zealand and had begun working with photographers Mark Adams and Haruhiko Sameshima on the sacred landscapes and buildings that would feature in that publication. My curatorial work began to move more in that direction while I was also still refining Hawaiki. The last full exhibition proposal that I submitted was to the Auckland Art Gallery in 2000 and later to the Gus Fisher, University of Auckland.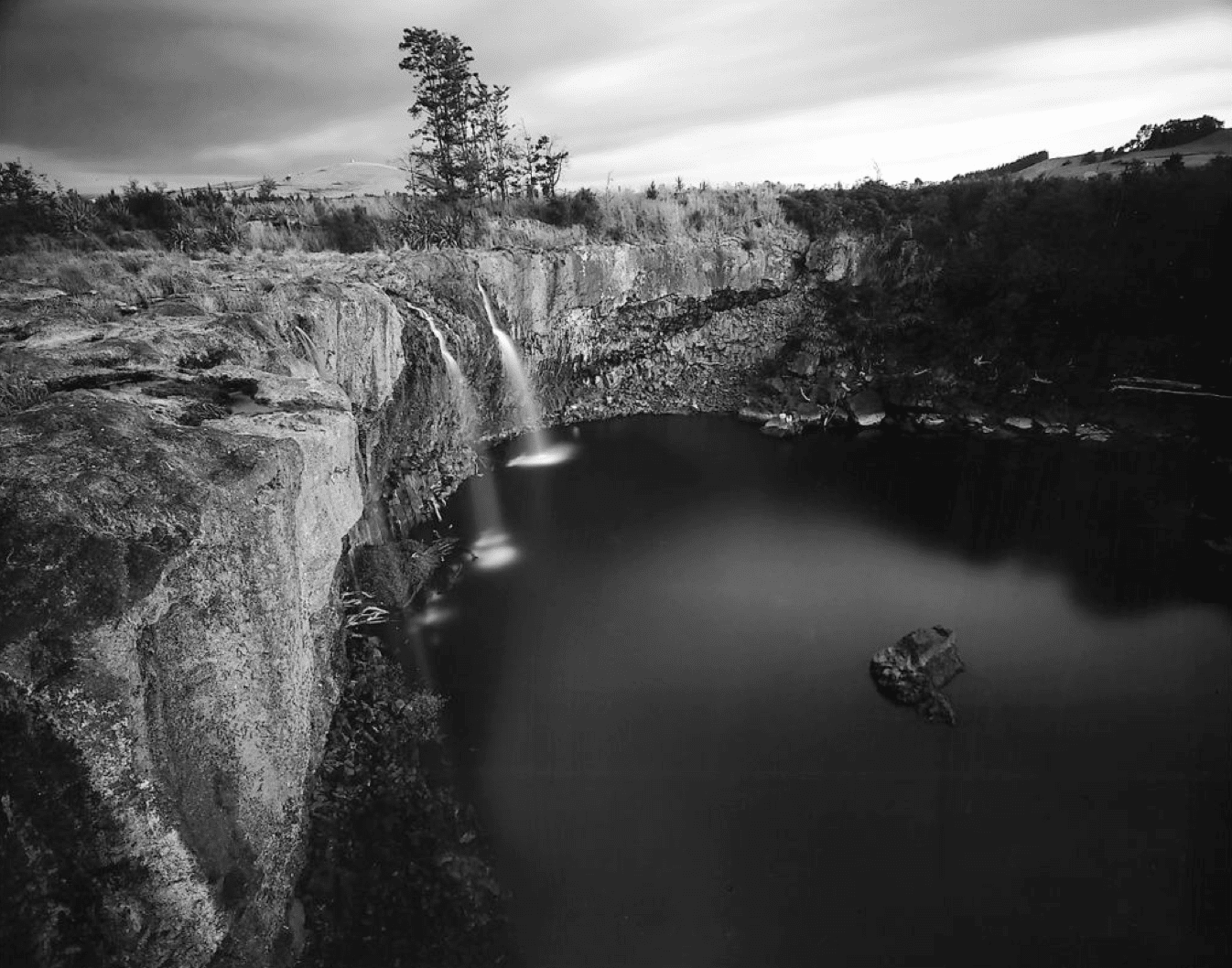 Te Ko Puru: The Blockade (aka earlier Four Waterfalls) was working much more with the themes that I was developing in my writing. It was tribally based but political and specifically oriented to Tāmaki as a location connected with my ancestral families and hapū. It was an exciting exhibition proposal involving the commissioning of mural sized photographs (Studio La Gonda had the equipment to produce this imagery) by Mark Adams and their presentation alongside objects from the Gallery collection. Some of the Adams material featuring my tribal landscape was already part of our collaborative work (i.e large format photographic negatives and a full series of smaller prints) created while doing field research in Te Tai Tokerau for my book MAORI ART. The submission included a 12 page document with a complete inventory of objects, a detailed summary of each individual work and their kaupapa within the show, a preliminary budget and a detailed floor plan for around 30 linear metres of wall space. The list of objects included paintings from the AAG collection featuring waterfalls along with 4 proposed images by Mark Adams that utilised waterfalls. Wairere was my metaphor for earlier Māori geographies, tino rangatiratanga and northern interests in Tāmaki Makaurau. The university response, given later events explained in MaC III 'BULL', is irrelevant but initially the project sat with AAG, and its newly appointed Māori curator Ngahiraka Mason, for a number of months meeting (as with Greg Burke earlier) another dead end. Ae, ko te puru. Hei aha.
I continued to work on Hawaiki: Last Homeland and as recently as 13 January 2009 was still hoping to revive central themes (i.e notion of Hawaiki, Polynesian diaspora and redefined concepts of the global mārae) of the show with the possibilities of a post doctoral fellowship and a partnership with the Field Museum. Regenstein Curator of Anthropology at the Field, Dr John Terrell, writing to the Auckland University Vice Chancellor:
'Dr Panoho and I first met at a Pacific Arts Association conference in Honolulu in 1989. Since then, he and I have discussed his ideas and projects on a number of occasions, both in New Zealand and in Chicago. While my own particular field is anthropology, my sense is that he has a refreshing, perhaps controversial, perspective on how to celebrate and, where advantageous, rework Pacific Islands visual culture. I am particularly enthusiastic about the possibility of developing collaborative undertakings with Rangihiroa dovetailing with my own and future projects. Our preliminary discussions in this direction have been a lively and spirited dialogue. The area of enquiry that he has chosen is a particularly fertile one both for Chicago-which has the honour of caring for the only 19th century wharenui in the New World–and for other overseas museum, cultural centers and the like. Once funded his field work in Brisbane, Sydney, London and elsewhere should help change minds and shift current thinking about how the traditions, arts and values of Pacific Islanders can contribute to global understanding and cultural practice. In my opinion, Dr Panoho is the ideal person for the job that needs to be done to bring more of the "The Pacific Way" to the world's attention in the constructive fashion that he and I have been discussing.'
I was involved with various exhibition proposals (i.e Utopia Station curatorium in 2004) that other colleagues initiated during my time at UoA. None of these projects eventuated inside institutions until my curating of IOU in association with my recent publication MAORI ART by Batemans and Pihirau in 2015, its launch at Te Uru Waitakere Contemporary Art Gallery, Titirangi and its wider exploration in a Creative New Zealand funded IOU at Tivoli Art Gallery, Waiheke Island 19 March 2016. I discuss this new creative direction in the article, Writing the book Maori Art, then painting and curating it as a show .
In late February 2020 I worked on helping my whānaunga with Toi Maungārongo (involving ngā uri whakatipu o Henare Panoho) inside my grandfather's meetinghouse at Porotī (about 20 minutes west of Whāngārei on the Mangakāhia valley road up to Kaikohe). If Graham's contention, 'the person carrying the hammer  – and I would probably add the guy who held the drill, climbed the ladder and who crimped the wire – was the Curator'  at the beginning of this blog is correct then that would probably be me in the service of my hapū. According to my whānaunga Dinah Paul, who sent out the panui and initiated the exhibition, the community still talks about how the art and taonga all seemed part of the interior. That I thought was a wonderful compliment regarding the continuum I have always been seeking in my writing and in my curating.
E ngā uri o Henare Panoho taku aroha ki a koutou me tā tātou mahi toi: he raranga, he whatu, he toi whakairo, he toi pukapuka, ko ngā pikitia me ngā toi ataata te mea te mea te mea kei roto i taua whakaaturanga Toi Maungārongo tata nei ki ngā taonga o te whare e tū nei. Ngā whakawhetai ki a koutou mō tā koutou koha.
Ka titiro au ki taua mahi toi me ngā pikitia o ngā tūpuna me tā rātou taonga hoki ka whakaaro au ki tā tātou honohono. Ka rere iho te wairua me ngā mea pukenga no Henare raaua ko Peata ne! Ae, titiro ki tā tātou honohono tetahi ki tetahi  kei roto i te whare nei. Na reira, ka whakaaro au ki te whakataukī, Nāku te rourou,  nāu te rourou, ka ora ai te iwi. Peenei whakaaro.
In all of this time then away from the Sarjeant Gallery I have never shied away from serious attempts to curate, using my curatorial skills or from applying for curatorial positions. Indeed it was educator Jonathan Mane-Wheoki's opinion, '…the gallery world needed me'  and more recently the encouragement of senior Wellington colleagues that suggested I apply again for the more recent Māori curator position (16 March 2021) being offered at Toi o Tāmaki. Some colleagues have started referring to me again as a Curator (see Paul Diamond review below).
Some may read my chronological description of events as a rather mixed, perhaps, entropic effort exercised inevitably from the regions, the margins, the periphery. Well, it is what it is. I have tried to tell this story as clearly as I have understood it. It certainly raises a number of questions about why the New Zealand gallery/museum world is such a heavily controlled and at times a space that is sometimes resistant to change. What is being protected? What is in danger of being lost? Who controls the narratives and the way objects are allowed to be interpreted and treated? I return to some of these central questions in my next installment where I work with some key 'gatekeeper' texts that attempt to cast my legacy in a particular light. COMING UP:
MaC II
rangihīroa, future flowerings, 2017
Save
Save
Save
Save
Save
Save
Save
Save
Save
Save
Save
Save
Save
Save
Save
Save
Save
Save
Save
Save
Save
Save
Save
Save
Save
Save
Save
Save
Save
Save