---
'Māori Art' winner AAANZ book prize presented at the School of Art, Australia National University, Canberra, 3 December 2016 . This is an international award in the discipline of Art History.
Best Art Writing by a New Zealand Māori or Pacific Islander
($500 supported by Christchurch Art Gallery)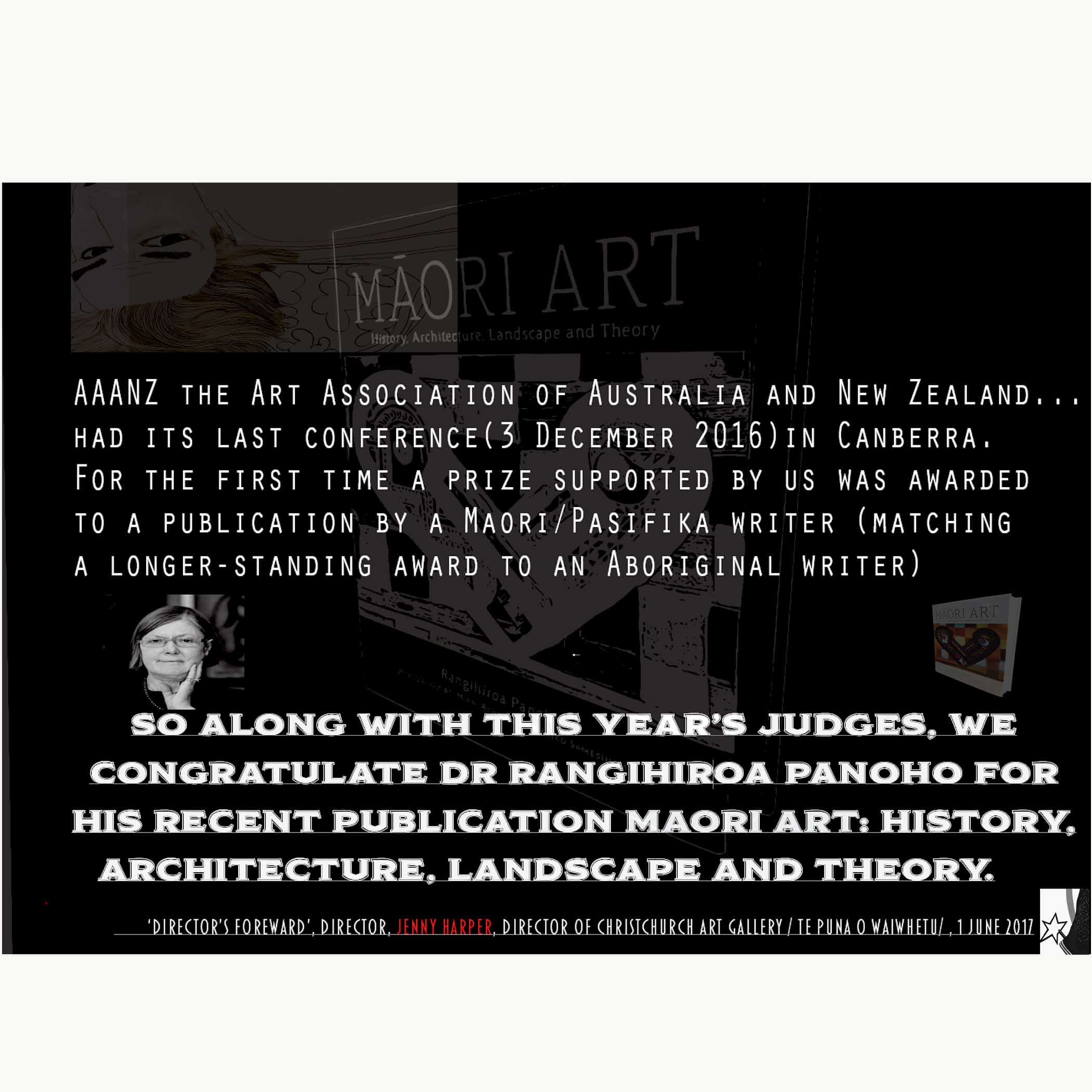 This prize was awarded to the best art writing, whether in the form of a book, article or essay, by a New Zealand Maori or Pacific Islander.
'This is an exciting and innovative addition to the discipline of Māori and Pacific art history volumes. The expansive vision of the author deserves to be acknowledged and rewarded.' 
Maia Nuku, Associate Curator, Oceanic Art, Metropolitan Museum of Art, New York
Full report posted in www.facebook.com/maoriartbook/
or try the AAANZ net site below:
AAANZ annual prizes recognise the best in arts writing and research across Australia and New Zealand. The awards cover a broad array of arts publishing and acknowledge the contribution of both emerging and established scholars and artists. The categories include prizes for books, catalogues, artist books and Indigenous art writing. The prizes are sponsored by a number of universities, art museums, associations and publishing bodies around Australia and New Zealand. The prizes recognise the following. Originality and rigour of scholarship. Contribution to knowledge in the area and impact on scholarly debate in the field. Significance of the topic to the field and to adjacent disciplines. Significance and originality of arts research. Quality of the design and production values of the publication. Ability to convey complex ideas to wider audiences.
Ngā Kupu Māori awards, Auckland Museum 3 October 2016
Tracy Borgfelt, Batemans Associate Publisher (right) Kikorangi and Adrianne Panoho (left), Ngā Kupu Māori awards, Auckland Museum 3 October 2016
Save
Save
Save
Save
Save
Save
Save
Save
Save
Save
Save
Save
Save
Save